Food4Less - Bend, Oregon - Grocery Store
Recipes
https://www.food4lessbend.com/Recipes/Detail/7740/Lemon_Blueberry_Chicken_Salad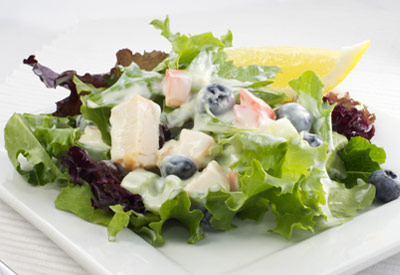 Lemon Blueberry Chicken Salad
Savor the taste of summer all year round with this quick and easy low calorie chicken salad. The secret ingredient -- lemon flavored yogurt!


Yield: 4 (1/4 cup) servings
Preparation Time: 15 min; Cook Time: 30 min
Nutrition Facts
Yield: 4 (1/4 cup) servings
Approximate Nutrient Content per serving:
Calories:
247
Calories From Fat:
54
Total Fat:
6g
Saturated Fat:
2g
Cholesterol:
63mg
Sodium:
188mg
Total Carbohydrates:
22g
Dietary Fiber:
3g
Protein:
26g
Calcium: 15% Daily Value
Directions:
In a medium bowl, combine yogurt and mayonnaise. Mix in blueberries (saving a few for garnish) chicken, celery, green onions and bell pepper. Mix gently.

Add salt and pepper to taste. Cover and refrigerate to let flavors blend for at least 30 minutes.
Serving Idea:
Serve over endive or other salad greens with reserved blueberries and lemon sliced, if desired.

Image and Recipe Courtesy of Midwest Dairy Association
Please note that some ingredients and brands may not be available in every store.
Food4Less - Bend, Oregon - Grocery Store Recipes
https://www.food4lessbend.com/Recipes/Detail/7740/Lemon_Blueberry_Chicken_Salad